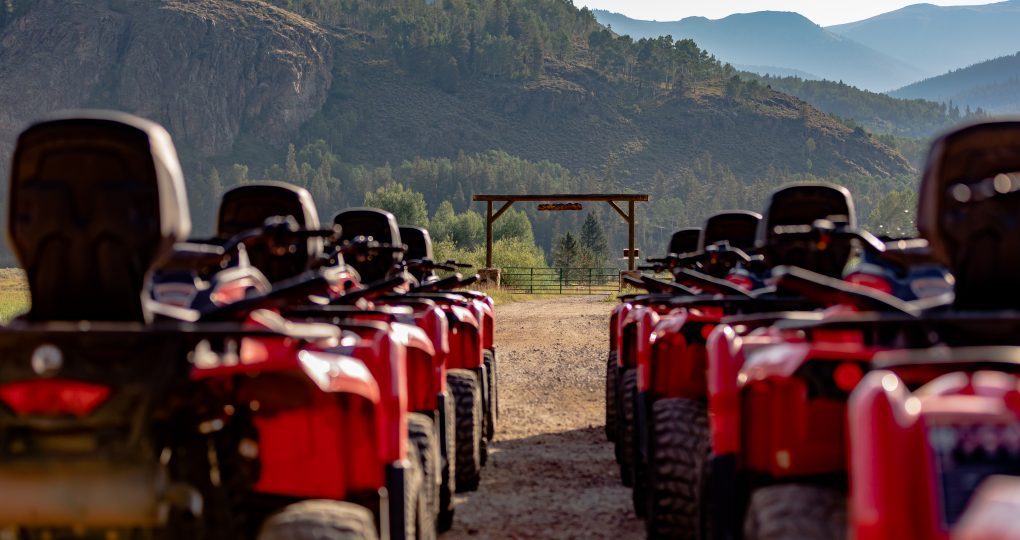 ATV and Jeep Tours
Hiking and biking the Rocky Mountains is great…but why not explore the landscape at a much faster pace? For visitors interested in combining a thrill ride with sightseeing, ATV, side-by-side and Jeep tours are the way to go.
DETAILS & FAQs
Outfitters
Sage Outdoor Adventures: side-by-side tours
Nova Guides: ATV, side-by-side tours and unguided rentals, Jeep Tours
Mountain Wolf: Jeep tours
Above and Beyond Jeep: Jeep tours
Lakota Guides: ATV tours
Timberline Tours: Jeep tours
Locations
Each outfitter has access to different locations and the terrain surrounding Vail is surprisingly varied. Take a look at their websites to gain insight into what you can expect to see. Tours access natural areas including heavily wooded trails, wide open meadows, alpine lakes, and even a dormant volcano. Submit a contact request to Vail Butler for help from our concierge!
Duration
ATV and side-by side tours: 2 hours
Jeep Tours: 3 hours
Transportation
Most outfitters offer transportation to Vail and Beaver Creek Villages and may ask groups to meet at an easily accessible area or pick up at their accommodations. Participants can also drive to the outfitters' locations.
Cost
ATV and side-by side tours: Expect to pay $180-240 per driver and $85-100 per passenger, depending on the trip you choose.
Jeep Tours: Expect to pay $170-200 per passenger, depending on the trip you choose.
Age Restrictions
ATV and side-by side tours: 5+
Jeep Tours: typically 2+
What to wear and bring
Dress in layers since Colorado weather can be unpredictable and temperatures vary greatly between high and low elevations. For ATV tours, closed toe shoes are a must and long pants are your best bet. For Jeep tours, keep in mind the vehicle does not have a top. Where sunscreen, sunglasses, and a hat.
What is provided?
The vehicle, a fantastic guide, and a helmet as needed.
When can you tour?
ATV and Jeep tours are best taken June-October but are weather dependent.