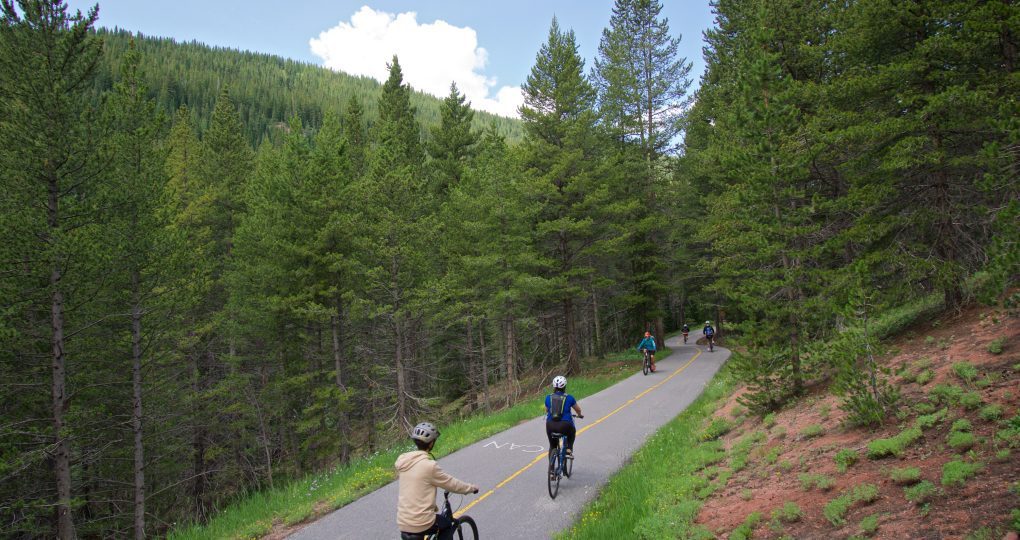 Bike Tours and Rentals
Hundreds of miles of biking trails make the Vail Valley a popular destination for all levels of riders throughout the spring, summer, and fall. Guests can choose from thrilling mountain bike trails and extensive paved bike paths, or even try an E-bike.
RENTALS
No bike? No problem. These local vendors have everything you need to get outside and hit the trails. Many bikes can be rented in advance and even delivered to your vacation home for a small fee.
Charter Sports
Venture Sports
MOUNTAIN BIKING
Vail
Mountain bike riders can access Vail Mountain trails one of two ways. Ticketed bike haul is located at Gondola One in Vail Village and Eagle Bahn Gondola in Lionshead. Riders may also choose to pedal the uphill portion of the trail in order to access downhill riding, which is free of charge.
What is a bike haul?
Bike haul means riders board a gondola and ride to the top of the mountain to access primarily downhill mountain bike trails. Bikes are securely hooked to the outside of the gondola for the ride to the mountaintop. Once the rider and bike reach the top, the bike is unhooked from the gondola and the fun begins! Bike haul is paid and requires a bike haul ticket.
Vail Butler's Favorite Trail
The Grand Traverse
A sun-soaked trail with expansive views of Vail's famed Back Bowls. It is a 8.1 mile out and back trail with 1,076 feet of elevation and can be connected to a number of offshoot trails to create a loop or lead riders back to the bottom of the mountain.
Vail Mountain Trail Map
Vail Bike Haul Tickets
Beaver Creek
Beaver Creek Mountain presents visitors with the opportunity to try all levels of trails suitable for beginners through experts. Depending on the season, riders are treated to a variety of views from peak summer wildflowers to autumn golden aspen trees, always complimented with sweeping mountain vistas. The bike haul at Centennial Gondola reaches nearly 50 miles of on-mountain bike trails and a ticket is required. As always, riders are also welcome to use pedal power to access trails free of charge.
Beaver Creek Bike Haul Tickets
Beaver Creek Mountain Trail Map
Eagle
Travel about 25 minutes west to Eagle and you'll suddenly find yourself in the high desert. The topography offers rolling red and gold dirt hills interspersed with scrub brush and over 100 miles of singletrack. Mountain biking season often lasts from early May through early November in Eagle, thanks to the high desert climate.
Vail Butler's Favorite Trail
It's a toss up between Haymaker and Boneyard. Both trails are relatively short, can be completed in around an hour, and have fun elements like bridges and berms. Ask any Eagle local and at least one of these trails will be on their list of favorites. Haymaker is best suited for beginner to intermediate riders while Boneyard requires intermediate to advanced skill. They are located in the same area, so riders can easily ride both in an afternoon!
ROAD BIKING
Gore Valley Trail
The Gore Valley Trail is a paved recreation path connecting every town in the Vail Valley and beyond. There are a few sections where the trail coincides with Route 6 but more than 80% of the trail is separated from the road. This trail can be ridden from as far west as Eagle to as far east as the Vail Pass. With a few turns and a lot of energy, riders can connect to the Summit County trail system and Breckenridge.
VAIL PASS BIKE TOUR
For a few hours of easy-moderate biking on a paved path marked with beautiful views, schedule a Vail Pass bike tour. Start at the top of the Vail Pass at 10,650+ feet. Then ride down 3,000 feet in elevation on the Gore Valley Trail and conclude in either Vail Village (15 mile ride, all downhill) or Avon (25 mile ride, some incline). On the way, riders are treated to views of the Gore Range, waterfalls, and fresh mountain air.
Choose from a guided or self-guided tour.
Book a Tour
Charter Sports Click for more info; call to reserve. 970-295-9797
Venture Sports Click for more info; call to reserve. Vail: 970-477-8095 Avon: 970-949-1318 Grand Hyatt Vail: 970-479-1510
Duration
Total time depends upon the riders and the start/end location. The tour including transportation can last anywhere from 1.5-4 hours.
Transportation
Transportation is provided for riders and their bikes, who are dropped off at the top of the Vail Pass. Riders must meet at a designated store location. Tours start and end at the store location, so personal vehicles should be parked there.
What to wear and bring
We recommend you bring a small bag with water, a rain jacket, a snack, and your cell phone. Dress in layers since mountain weather can be unpredictable. Plus, the tour starts at a much higher and cooler elevation than where it concludes.
What is provided
Comfort cruiser bike or mountain bike and helmet. Some tours include a first aid kit, repair kit, water, and a snack. You may want to bring these items yourself if you choose an unguided tour.