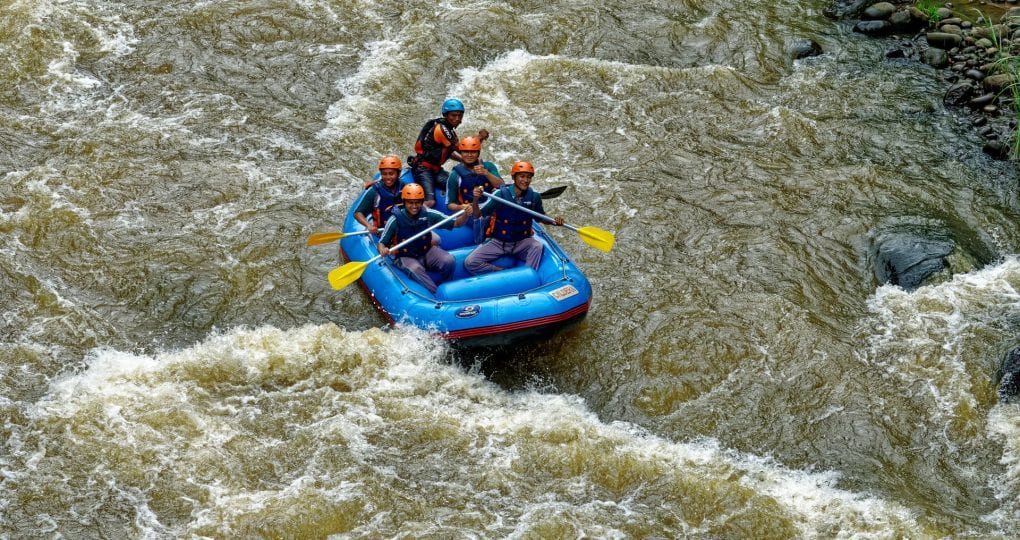 Whitewater Rafting
Vail's proximity to the Colorado, Eagle, and Arkansas Rivers means visitors have endless opportunities to get outside and have a blast on the water!
Summers in the mountains can really heat up, so it's no surprise whitewater rafting is one of the top rated activities for those seeking to cool off. A wide range of professionally guided trips are available to suit your style. Choose from relaxing and scenic float trips and adrenaline-pumping jaunts through class IV and V rapids, and everything in between.
A VAIL BUTLER FAVORITE
Shoshone
One of the most popular trips, and with good reason. This 4-hour tour gives you the best of both worlds as it starts off with Class III rapids to provide a bit of a thrill, yet ends with a beautiful and calm float. You'll marvel at the red walls of Glenwood Canyon as you head down the Colorado River towards the town of Glenwood Springs. The day will be fun for the whole family and is appropriate for kids aged 6 and older weighing 50 pounds or more.
DETAILS & FAQs
How do I reserve a tour?
Use the online booking system to reserve on your own or fill out the contact form on this page to ask for help from a Vail Butler concierge.
Locations
No matter which tour you choose, you'll be treated to gorgeous views. You may raft through the Class III rapids of the Shoshone on the Colorado River, float the Upper Colorado, or white knuckle through Class IV rapids in The Numbers on the Arkansas River.
Distance
Since each trip has a different starting point, travel time from your accommodation varies from 45 minutes to 1 hour 20 minutes. Be sure to check trip information when reserving.
Duration
Tours last between 3 and 5.5 hours including transportation and vary based on how fast the river is flowing.
Transportation
For the Vail and Beaver Creek areas, transportation is often available for many tours. Some tours require guests to drive their own vehicle or be dropped off and meet at a designated river outpost on the Arkansas, Eagle, or Colorado Rivers. If your tour does not include transportation, consider reserving private transportation.
Cost
Expect to pay $99-149 per adult, depending on the trip you choose. Kids are $59-149.
Age Restrictions
Kids are welcome on most tours. Float trips may be appropriate for kids as young as 2 years old but age and weight restrictions may be in place based on river conditions. Age requirements for more challenging tours are sometimes based upon maturity, experience, and weight. Be sure to check trip information when reserving or contact the outfitter directly with questions.
What to Wear and Bring
Wear a swimsuit, plenty of sunscreen, water shoes or sandals with straps. You can wear a t-shirt and shorts as well. Just remember they will get wet. Sunglasses or prescription glasses should be attached to croakies. Leave anything you don't want to lose or get wet at home or in a vehicle. There is always a chance you "go for a quick swim", whether you intend to or not! Bring a change of clothes and a snack for after the trip.
What is provided?
A helmet and PFD (life jacket) are provided and you are required to wear them. Some outfitters provide a wetsuit and booties for cold days.
When can you raft?
Rafting season lasts from mid May through the end of September and is completely dependent upon rainfall and river conditions. The season may start or end a bit earlier or later.
What if there is bad weather?
Rafting trips set off rain or shine. Tours may be canceled if lightning is present or weather conditions are otherwise deemed unsafe. If that is the case, your tour operator will contact you. It may be possible to reschedule for an alternate day but additional fees may apply.
What if I have no rafting experience?
That is okay! Beginner trips are available and your guide will ensure you are safe and having fun the whole trip.