Let us begin with the wonderful truth! Vacationers choosing between visiting Vail and Beaver Creek are presented with a decision of the best variety: one that has no wrong answer.
These resorts are just a 20 minute drive from one another, which makes traveling between the towns to ski, dine, or play a cinch. In fact, many visitors who stay for an extended period choose to split their time between both areas. Still, your time isn't best spent within the confines of a car. So, how do you decide which ski town is best for you?
The team at Vail Butler will break down the main differences between Vail and Beaver Creek: affordability, dining, nightlife, activities, and skiing/snowboarding.
Affordability
When visiting these sought-after destinations, expect to pay a higher price for accommodations. While winter is traditionally the most-visited time of the year, visitors are quickly realizing the summer is just as fun. This results in two distinct busy seasons: mid-December through early April and mid-June through August. Prices during this time will be at their peak in both Beaver Creek and Vail, although Beaver Creek tends to be slightly less expensive. Budget travelers should visit during the spring and fall seasons, or consider staying outside the town center to find lower vacation rental rates.
The shops and restaurants' pricing runs the gamut. No matter the time of year, travelers can choose to dine in high end establishments and pay the price for that experience. However, there are plenty of affordable and casual dining options.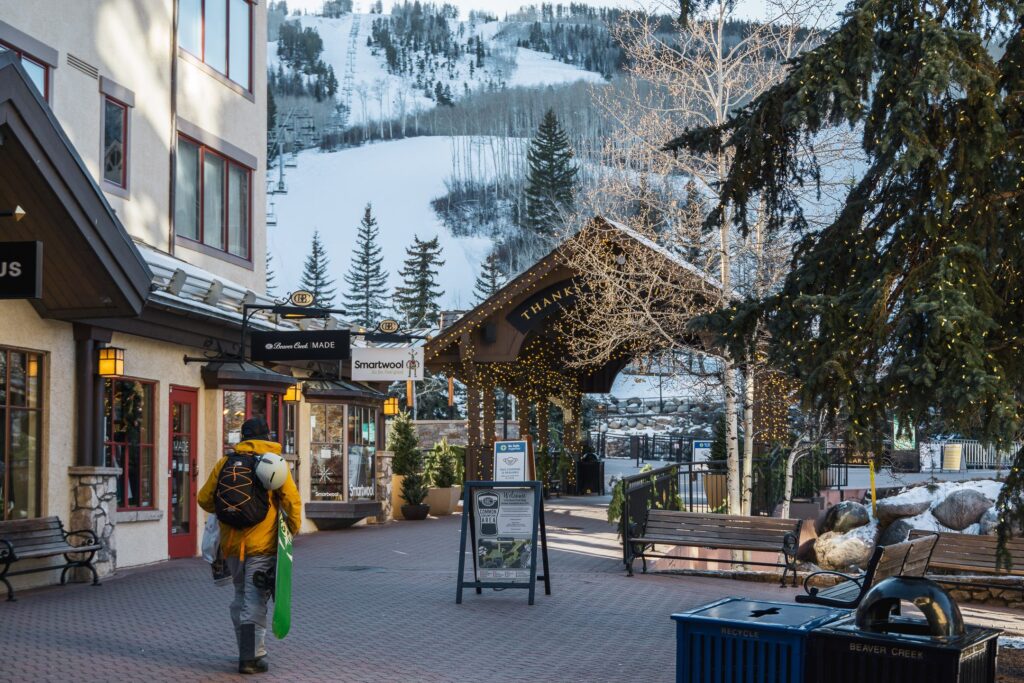 Dining
Vail hands-down has the greatest amount and variety of restaurants within the town limits. Those interested in a vacation during which they can walk everywhere and never need to move the car should opt for Vail. As we already mentioned, diners can find anything from casual bar food to epic fine dining experiences covering world cuisines.
The handful of delicious restaurants in Beaver Creek offer more than enough variety to satisfy for a few days but visitors may grow tired of the options when staying for an extended time period. A few of our favorites are: Grouse Mountain Grill, Splendido, Beaver Creek Chophouse, and Wyld.
A major benefit Beaver Creek's location has over Vail is its close proximity to a few towns with big food scenes: Edwards and Avon. In 5-15 minutes, visitors can be transported to around 20 additional dining options. Many of these restaurants offer great meals at significantly more affordable prices since they are located in towns where locals live year-round.
For more information, read our full Dining Guide
Nightlife
Night owls will simply be happiest in Vail. Although the streets of our mountain town are significantly quieter than any major city, there is plenty of fun to be had after dark.
The apres ski scene, boasting live music and drink specials around every corner, transitions into a vibrant evening experience. Bars are open later in Vail and there are even a few nightclubs. Some are absolute dive bars like The George. Some are elegant cocktail lounges like Root & Flower and Remedy. Some offer live music or DJs and a true party atmosphere, like Shakedown Bar.
Those looking for late-night activities outside of bars and restaurants will have to work a little harder. Bol + Deca offer an upscale environment to bowl and sip cocktails. Vail also hosts a number of concerts and festivals throughout the year, so planning a visit around them is a great way to ensure there will be something to do at night. For example, Snow Days offers ticketed concerts to see big name bands in a pop-up outdoor venue located in the center of town.
Beaver Creek is home to the Vilar Performing Arts Center (VPAC). This means visitors have access to an incredible variety of performers ranging from current music stars to comedians, dance crews to motivational speakers, and everything in between. Be sure to purchase tickets in advance.
Outside of VPAC and a few bars, nightlife options remain limited after 10 pm in Beaver Creek. The town is much quieter in the late evenings compared to Vail. Shops and restaurants tend to shutter their doors a bit earlier. As a result, this village attracts many families with younger kids and early risers who aren't bothered by a lack of nightlife.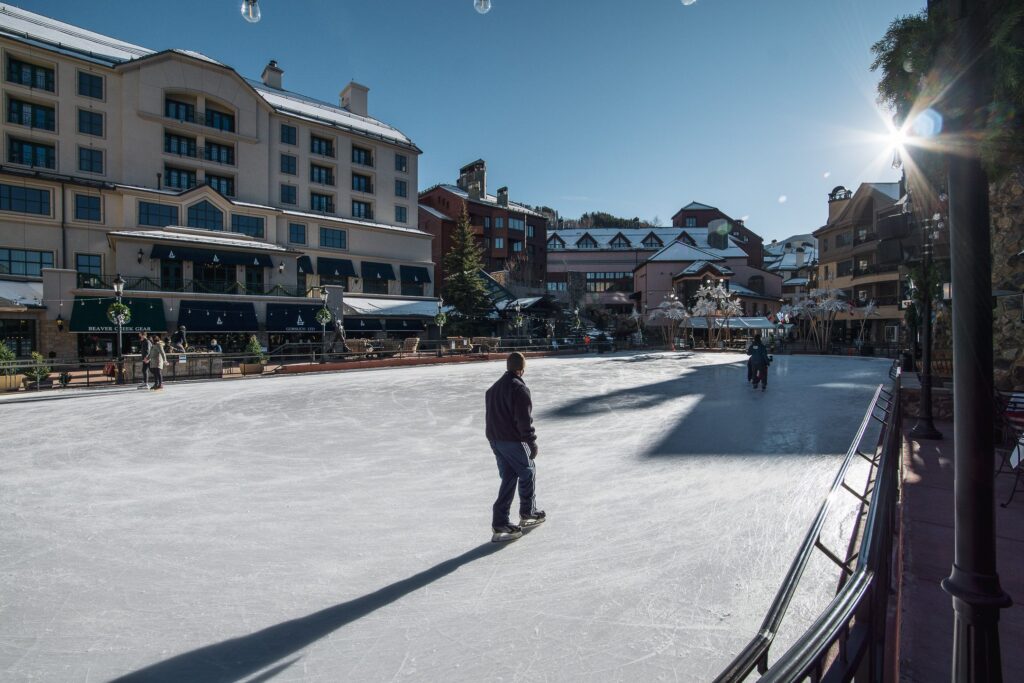 Activities
Many off-resort activities are actually located out of town, meaning visitors must travel to them no matter where they are staying.
Activities worth trying include dog sledding, snowmobiling, and sleigh ride dinners. Many outfitters provide transportation and will pick participants up at their accommodations. Ice skating is another great activity for the whole family. There are two outdoor rinks in Vail and one in Beaver Creek.
Vail and Beaver Creek are big on events and activities! Check their respective events calendars for up to date information.
Skiing and Snowboarding
Which mountain is better for skiing and snowboarding? That's an impossible question to answer without a bit more information since it truly depends on preference.
Vail and Beaver Creek are both incredible mountains. When the Back Bowls of Vail, which are more suitable for advanced skiers, are excluded, the mountains are even comparable in size.
Each mountain is "better" than the other for different reasons. Again, there is no wrong choice.
Beaver Creek is beloved by beginner to intermediate skiers and 62% of its terrain fits that category. Advanced skiers will love Grouse Mountain for its challenging moguls. There are also plenty of steep black diamond trails and tree runs. However, skiers who plan to stick to advanced terrain all day are best served by Vail as 53% of the mountain is marked for advanced and expert skiers. The famous Back Bowls offer unmatched freestyle and tree skiing but there are some awesome black diamond trails all throughout the mountain.
Ski and snowboard lessons are offered at both Vail and Beaver Creek so beginners are sure to have a great day, too!
Snowboarders can have a fantastic day no matter what but will find Beaver Creek easier to navigate. Most of Vail's areas are connected by cat walks. That is, flat, slow, snow roads that can make it frustrating to maintain speed on.
Vail is one of the most recognizable ski resort names in the county. This can result in longer lift lines and more crowded slopes, despite an impressive 5,317 skiable acres where visitors can spread out. Beaver Creek tends to fly under the radar a bit better and outside of the main base area by Centennial Chair, crowds and long lift lines aren't very common. On a powder day, Vail is hands-down more crowded.
Again, there are so many positive aspects of each mountain that neither is better than the other. We at Vail Butler suggest spending time at both, if you're able!
Vail
5,317 skiable acres
18% beginner terrain
29% intermediate terrain
53% advanced/expert terrain
31 lifts
195 trails
Beaver Creek
1,832 skiable acres
19% beginner terrain
43% intermediate terrain
38% advanced/expert terrain
31 lifts
195 trails
The Verdict
We here at Vail Butler admit we are a bit indecisive. With two fantastic options, we're never able to choose if Vail or Beaver Creek is "better". It all comes down to personal preference and what each visitor wants, needs, and expects from their vacation.
The great news is, Vail Butler hosts premier vacation rental properties in Vail and Beaver Creek.
Browse properties today to find the perfect fit for you!