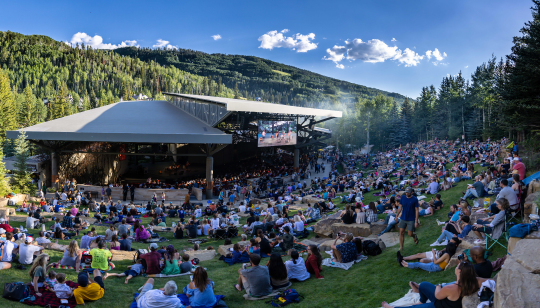 Welcome to summer in the Vail Valley!
Summer in the mountains means your calendar will be full to the brim with incredible events. If you can't find one you love, you're not looking hard enough!
Since there are so many venues and events to choose from, the Vail Butler concierge team has narrowed down the best of the best and put them all in one place. That means you can spend less time researching and more time doing what you should be – enjoying your vacation!
VENUES

Gerald R. Ford Amphitheater – Vail, CO
What can't you see at this venue? This amphitheater delivers gorgeous views of Vail Mountain from the locally-beloved lawn seating and an up-close-and-personal experience from the covered amphitheater seats. It hosts everything from symphony orchestras to comedians, rock concerts to dance festivals. Plus, free concerts every Tuesday throughout the summer!

Notable events include:
– Bravo!Vail
– Hot Summer Nights (free concerts)
– Vail Dance Festival
– Mountains of Music
– Summer Concert Series
– And many more! (seriously; the schedule is packed this summer!)

Vilar Performing Arts Center – Beaver Creek, CO
This venue is celebrating 25 years and there isn't a bad seat in the house! With just 500 seats, every view is incredible. The majority of entertainers here are bands and musicians but the Vilar PAC is known to host various events like TED talks, comedians and dance troupes.

Check out the full calendar of events and buy tickets here.
SPECIAL EVENTS

GoPro Mountain Games
June 8-11, 2023
Vail, CO

The GoPro Mountain Games offers competitions for all things outdoors. Participants are invited to do their best and have a blast, no matter the sport. The Mountain Games are unique because they're open to everyone to participate, not just professional athletes. Kids competitions like the mud run and bike race are local favorites. Plus, there are clinics for climbing, casting and more. There are event events for your dog!

Spectators of the events are never without something to do. If they want a break from watching competitions, the vendors and endless entertainment like free concerts should hit the spot.

More info on each sport: BIKE RUN CLIMB KAYAK RAFT SUP FISH DISC YOGA DOGS
BLUES, BREWS & BBQ
May 26-28
Beaver Creek, CO

Plan to spend your Memorial Day Weekend enjoying the things we all love: listening to music, enjoying the company of great people, and chowing down on delicious barbeque. What are you asked to bring? "Friends, family, and your appetites".
FREE CONCERTS
All Summer Long
Vail, Minturn, Beaver Creek, Edwards, Eagle

Each town presents a free concert every week for over 2 months, treating listeners to relaxed evenings spent with good company in the great outdoors. Performances run the gamut of genres including rock, country, bluegrass, and Latin music.

Schedules and Details
FARMERS MARKETS
All Summer and Fall
Vail, Minturn, Edwards

Palisade peaches, handmade goods, fresh flowers, artisan crafts, original artwork, food stalls galore. Interested? These are more than just your average farmers markets.

Schedules and Details